Do you like D&D? Do you like playing board games? Then at some point you've probably thought to yourself,
My kitchen table just isn't good enough anymore. I wish I had something more refined and elegant to play on.
That is the reason you're here. You want to build your own gaming table, and you're trying to find all the other people out there as crazy as you are. Welcome.
About a month ago, I started my own quest to build my own DIY gaming table. I first created a new Board on Pinterest to collect images of people who had made their own tables. I then stumbled upon a great thread on Board Game Geek that shared a full list of all the geeky gamers out there that finished building their own tables as well. Between these two resources I started weeks of research to determine what features I wanted in my table.
This article is not intended to be a definitive list of all DIY gaming tables out there.  I hope that this list will serve as a curated list of tables that have good explanations, photos, parts lists, and plans to give you inspiration.
The Baseline – Professional Tables by Geek Chic
Before we get to the DIY list, we need to know where "the bar" is set. What is the baseline? What is the top-end that we should be aiming for in a quality gaming table?  Board Game Tables is a quality table manufacturer, and there's even the newcomer Kickstarter success Carolina Game Tables. However, the de facto standard by which we judge a high-end gaming experience, is Geek Chic.  (updated: Sadly Geek Chic is no longer in business.)
Geek Chic was known for their heirloom quality gaming-centric tables and demand a very pretty penny for their work. Gamers everywhere swoon at owning one of these tables. There are too many options to detail here, but a few include: dimensions, fabric options, vault depth, vault layers, wood type, finish, and even engraving.
The key feature available on all tables is their Rail System. It's a custom-designed slot that runs along the table that allows for hanging of special-designed accessories like cup holders, dice trays, desks or even a wine glass holder. Elegant, modular, and brilliant.
The Minimalist – Base Price: $3200 – $4750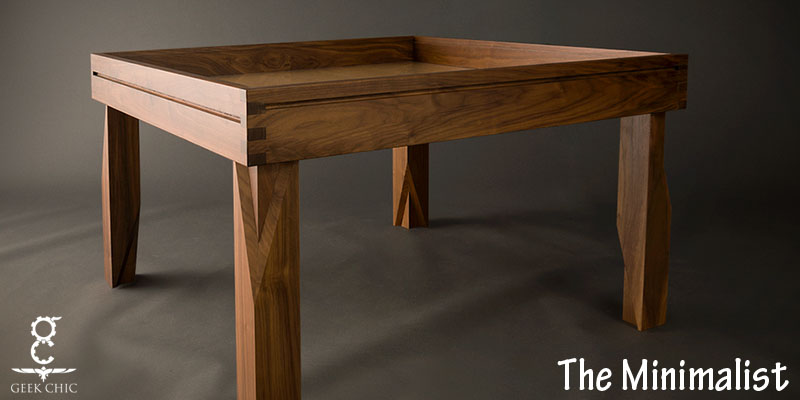 This beautiful table would easily fit in your dining room or kitchen and you'd never know it was for gaming until you lifted the top cover. It's beautiful and simple, probably where it got its name.
The Vizier – Base Price: $9,985 – $ 15,025
The Vizier is a cross-over table, between an elegant dining table and a serious gaming table. The fold-down tables make this design distinct and give each player a comfortable personal playing space. You can add the option for secret drawers at some of the player stations if you wish, which is pretty cool. For the DIY table maker, this table inspired the most spin-off designs.
The Sultan – Base Price: $15,450 – $21,050
This is it. The most top-of-the-line gaming table available. No longer is the table trying to be dual-purpose or masquerade as anything else. This is a serious gaming table, with options to include up to 10 player stations. Each station can have multiple drawers to keep gaming supplies.  If money is not a limiting factor, and you want the best gaming experience, this is it.
DIY Gaming Tables
Gamers have different goals when deciding to make their own tables. Some players want a simple surface to play on that gives a fun, up-scale feel to the games and need it to be simple enough to put away when not in use. Others want a larger more serious gaming table, but can't afford the space so they decide to make a hybrid table that can double as a dining or coffee table. Of course, some want the cream-of-the-crop experience that you get with a professional table, but don't have tens of thousands of dollars to spend on one.
I found dozens of websites and blogs with people who built their own tables. I wanted to include what I thought were the best DIY examples that spanned the range from simple playing surfaces, all the way to dedicated gaming table.
Simple Gaming Tabletop – Kristy GD
Pros:
What appealed to me about this table was that it was just a playing surface with no legs. It was more simple to make, and was easy to put up against a wall when not in use. The headliner foam with the velvet surface must be the perfect comfortable combo to play on.
Cons:
There is really no where to write. The soft surface would also unfortunately mean your pencil could easily go right through the paper when trying to write, so you would need clip boards or something else to help with writing. The fabric surface won't remove easily if servicing is needed.
Specs
Players: Up to 8.
Size: 63″ x 31.5″
Legs: None (requires table to rest it on)
Features:
Stores easily away when not in use
Headliner foam and velvet surface
Elegant wood molding trim.
8/10 – Nice photos, detailed explanation, and detailed parts list with links.
Dedicated Gaming Surface / Table – Matt Holland
Pros:
I like how the fabric surface can be easily removed from the table and serviced if needed, for example a spill or something. The pop-out cup holders on those unused corners is a nice use of space, and they tuck away when not in use.
Cons:
It's not a vaulted playing space, but depending on your perspective this may not be a negative.  It's a larger and heavier gaming surface making it harder to put out of the way when not in use. The 3.5″ ledge makes writing possible, but probably not very comfortable.
Specs
Players: Up to 8
Size: Playable area is 61″ x 41″, overall is 68″ x 48″
Legs: None (requires table to rest on)
Features:
Playing surface is volara foam topped by nylon velvet speed cloth
Folding cup holders
Small shelves for each player to hold misc stuff.
7/10 – Good photos of his process and explanation of what materials he used.
Simple Dining Table Conversion – David Rickman
Pros:
What I love about this table is the simplicity. It's a dining table and a gaming table. It does both well, without a lot of extra bells and whistles. (although the cup holders are a nice touch) When I first saw this design, I almost started building it without looking anywhere else. I liked it that much.  However, to start on this design, you need to find a table to start with.
Cons:
For games like D&D, the lack of a writing space is troubling, but the add-on tables are a nice touch.  The moulding is glued in place, which makes servicing the fabric tough.
Specs
Players: Up to 8.
Size: Unspecified (est 4′ x 4′)
Legs: Single middle solid trunk
Features:
Doubles as dining table
6x embedded cupholders
3″ gaming vault.
Add-on player tables
8/10 (updated 2/28/16) – Good photos and excellent descriptions of all the steps taken to make this table.  No downloadable plans, but that's expected from a conversion project.
Family Game Table – Jarrett Dunn
Pros:
This table caught my eye because of the fold-down player areas around the entire table. Similar to those found on the high-end Geek Chic tables, but so much more simple. Legs look solid and elegant.
Cons:
No dedicated place to put your drinks except maybe on your player desk. When the desks are folded up, it leaves an opening all the way around the edge of the table. There really wasn't any detail about the playing surface other than it was a Boards & Bits game table cover. It seems they have since gone out of business, so I don't know what the quality of that surface would be like.
Specs
Players: Up to 8+.
Inspired by: Vizier by Geek Chic
Size: 4′ x 6′ gaming area, 4′ 11″ x 6′ 11″ overall
Legs: Square Farm Dining Table Legs, on corners.
Features:
8x Fold-down player tables
Brass corner details.
Boards & Bits game table cover
Usable as dining table (but no photos)
8/10 – Good final photos with detailed explanation of the building process.
Full Gaming Table – Bum Kim
Pros:
The TV is a sweet feature for sure, but it's easy enough to leave out if you don't need it. The dice trays and cup holders are a really nice touch.  The legs hold a nice shelf in the middle that can be adapted to hold your games.
Cons:
What if the TV breaks?  Would replacing it or servicing it be a problem?
Specs
Players: Up to 8.
Size: 4′ 11.5″ x 4′ 11.5″
Legs: Square 4×4″, inset with shelf
Features:
Embedded 40″ TV in surface
Usable as a normal table
2.5″ vault
Built-in cup holders and dice boxes
Built-in power outlets
Built-in bottle opener
10/10 – TONS of resources. Drawn plans, Sketchup 3D files, parts lists, detailed explanations, and a 50-minute how-to video.
The Archon Game Table – Stephan Reese
Pros:
This table just looks impressive and elegant. High class.
Cons:
I'd be concerned if I could pull off the craftsmanship required to due this design justice. The magnetic panels are an elegant solution to plugging the "holes" when the tables are up, but the knobs makes it looks like a dresser around the outside.
Specs
Inspired by: Vizier by Geek Chic
Players: Up to 9.
Size: Overall Length: ~6 feet (desks in) / ~7 feet (desks out)  Overall Width: ~5 feet (desks in) / ~6 feet (desks out)
Features:
Doubles as dining table
Fold-down players surfaces
3″ vault w/removable grid mat
Elegant execution
Extra-wide fold-down table for DM
8/10 – Great detailed photos, with a full thread of in-process discussion.
My Next Steps
Each of these tables is elegant in its own way. There are features I like in each one, and features I don't. Welcome to analysis paralysis!
Each person is different, and you need to find what will work for your situation. I have started with Bum Kim's gaming table design, and have started to tweak it to add the features I want. I'm sure it'll be a several-month process before it is done, but when it is I'll be sure to post details about how I got there.
Best wishes with building your own table!