Over the past year and a half, I've had the honor of working with the amazing team at
Deck Nine Games
on the critically-acclaimed game
Life is Strange Before the Storm
.  We introduced a new character in this season of Life is Strange named Skip Matthews, the quirky security guard at Blackwell Academy.  If you choose to talk with him in the game, you learn that he's actually in the band PissHead and offers for you to listen to his demo song. Day-to-day, my responsibilities as a Co-Game Director revolve around directing and reviewing cinematics to make sure the story is being told through the gameplay in a fun and engaging way.  While creating the game, we realized we needed to record a song for Skip and his band. It was time for some of us at the studio to stretch our musical muscles.
PissHead is:
Chuck Carr (audio director) – Vocals and Guitar
Chris Floyd (co-game director) – Drums
Webb Pickersgill (co-game director) – Bass
David Hein (producer) – Sax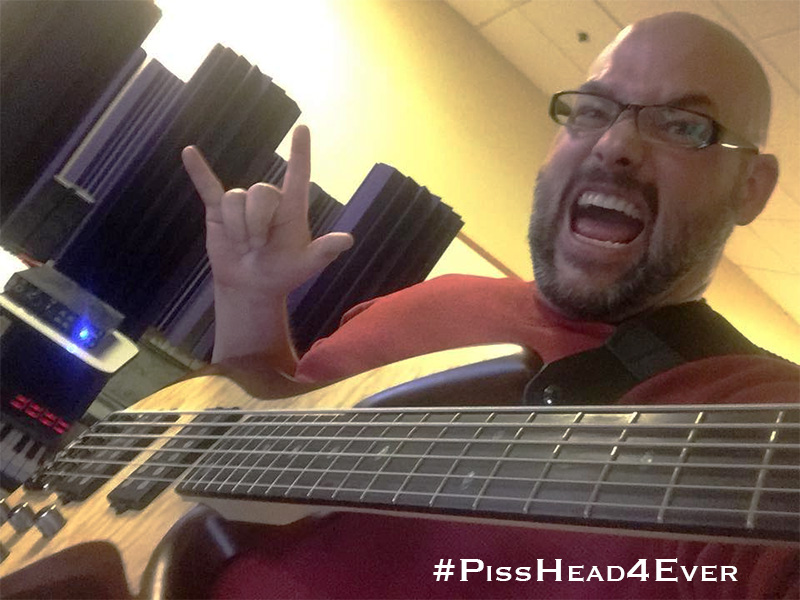 I was super-excited to plug in my bass after so many years and lay down the track for a cool tune that would be featured in the game. After the release of episode 1, the song gathered a small but dedicated fanbase. Since then, I've had numerous people contact me with requests to transcribe the bassline for them.   In my personal time, I decided to answer that call.
Disclaimer
Although I was the bassist on the recording of this song, and I am a current employee of Deck Nine Games, this transcription is not "official" in any way or endorsed by the developer or publisher.  It's just something I did on a weekend for fun, giving back to the fans of Life is Strange.
Well, here you go.
I present to you, the 5-string bass tab transcription of "Nothing Wrong" by PissHead from Life is Strange Before the Storm.  #PissHead4Ever